Unveiling the Shield: The Crucial Role of Outdoor Covers for BBQs and Furniture in Winter and Beyond
Is there a crucial role of outdoor covers when you think of your barbecue accessories? Undoubtedly when it comes to preserving the allure and functionality of your outdoor BBQs and furniture, the unsung heroes are the covers that shield them from the unforgiving elements. As we approach winter in North America and Europe, the importance of these protective layers becomes even more evident. Let's delve into why outdoor covers are not just accessories but indispensable guardians of your prized possessions, ensuring their longevity and optimal performance throughout the seasons.
The Perils of Unprotected BBQs and Outdoor Furniture
Weather-Induced Damages
Winter brings forth a barrage of challenges for outdoor appliances. From freezing temperatures to snow and ice, the impacts on BBQs and furniture can be severe. However, the revelation lies in understanding that summer poses its own set of hazards. Intense sunlight, rain, and debris can take a toll on your investments, necessitating year-round protection.
Financial Consequences
The aftermath of leaving your BBQs and furniture exposed can be financially burdensome. The repair dilemma becomes a reality, and the longevity of your appliances is compromised. Investing in high-quality covers becomes a cost-effective strategy to avoid these consequences, ensuring that your appliances withstand the test of time.
Covers & All's Customization Options –
Tailor-Made BBQ Covers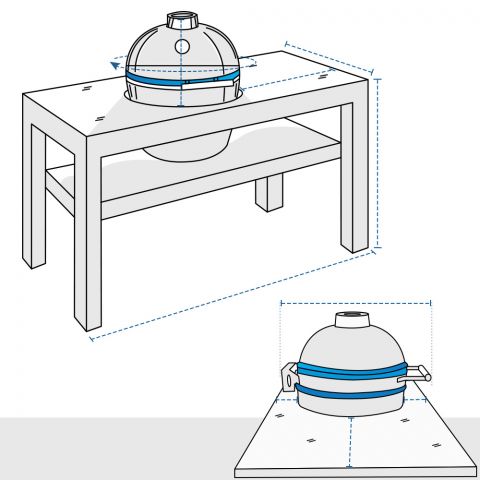 At Covers & All, customization is not just an option; it's a commitment to providing the perfect fit for your appliances. The process involves choosing custom sizes tailored to your specifications, supported by measurement tools for precision. This ensures a snug fit that offers full coverage from all angles, leaving no room for weather-induced vulnerabilities. We have provided below some images that show how you can design by BBQ model -type or for that matter any furniture type, you can customize the look, shape, and size of your cover. If you have a brand you are promoting, you can even have these layered into the design of the cover.
Aesthetic Personalization
Beyond functionality, the covers become an extension of your outdoor space's aesthetics. Add a personal touch with unique logo and text options, allowing you to imprint creative artwork, family crests, or even a favorite quote. The myriad colors available for customization enable you to harmonize the covers with your outdoor decor, elevating the visual appeal of your BBQ area.
Premium Materials for Ultimate Protection
Weather-Resistant Fabrics
Covers & All boasts a range of weatherproof fabric choices, each designed to resist outdoor elements. With varying thicknesses of 1000D to 600D, these heavy-duty polyester fabrics exhibit high-tensile strength. From moderate to extreme weather conditions, these fabrics ensure lasting protection, making them indispensable for safeguarding your heating appliances.
Water and UV Protection
Acknowledging the detrimental effects of water and UV rays on outdoor appliances,
Covers & All provides covers with UV-treated and waterproof materials. These covers repel moisture and scorching heat, preventing corrosion, fading, and damage to electrical parts. The result is a BBQ or heating appliance that looks and performs as good as new.
Tear and Abrasion Resistance
Outdoor environments are rife with potential hazards, including falling debris that can cause tearing and scratching. Covers & All's tearproof and abrasion-resistant covers are crafted to resist such impacts, ensuring they stay intact and your appliances remain durable. This level of resilience is crucial for maintaining the longevity of both covers and appliances.
Functionality Beyond Aesthetics Plays a Crucial Role of Outdoor Covers Effectiveness
Tie-Downs for Sturdy Security
Recognizing the threat posed by strong winds, Covers & All equips its custom covers with sturdy tie-downs and grommets. Whether you prefer drawstrings, elastic at the bottom, push clips, or zippers, these options cinch the covers in place, preventing them from ballooning or flapping away. This wind-resistant design adds an extra layer of security to your investments.
Convenient Ordering Process
Securing your appliances with Covers & All is a straightforward process. Choose the cover that suits your needs, customize its size, select the fabric and color, personalize it with your preferred text or logo, and choose tie-downs for added security. This seamless ordering process ensures that you receive a cover that not only fits perfectly but also enhances the protection of your outdoor appliances.
Conclusion
As we navigate the changing seasons, the significance of outdoor covers for BBQs and furniture becomes clear. Covers & All offers more than just protection; it provides a comprehensive solution for preserving the aesthetics and functionality of your outdoor investments. By investing in high-quality, customized covers, you're not just shielding your appliances from the elements; you're ensuring they stand the test of time, allowing for extensive and worry-free usage. Make the wise choice today and elevate your outdoor experience with Covers & All's premium covers.
<<<<<<<Visit Our Product and Image Pages to see additional Product Options from the Outdoor Lifestyle and Barbecue Sector >>>>>>