Thank God for the MEATER, the leading wireless smart meater thermometer.
I know, what a crazy headline. But seriously at a recent BBQ in Dubai, I was fortunate to be a guest at a friend's, where I saw the wireless smart meater thermometer working where it literally saved the day, and from its use and application thus we went on to have an amazing social event and BBQ Cook outcome.
The Best Advice You Can Ever Get About Barbecuing?
It always comes from a friend who has literally lived the experience and learned from the University of Life how to BBQ. As mentioned above
To set the scene, I had been travelling for a few months, was on the way back to Europe, and had taken a four-day stopover in Dubai, having spent the previous two months in Australia visiting friends and family. And yes I have some Barbie (BBQ in Australian talk) stories and experiences in Australia that I need and wish to share with you. (Look out for these separately).
So, getting back on track, I find myself in Dubai, the United Arab Emirates. A familiar place where my wife, our family, and myself had spent a most enjoyable 17 years in my previous life as an ex-pat. If you are asking what can you do if you have 3 or 4 days in Dubai to spare, well in my case I was fortunate to be invited to a BBQ with old friends of ours that remained working and residing in Dubai. Mikael, my friend absolutely knows I'm a BBQ fan and decided to go all in on a Wagyu Tomahawk steak as the main item on the table. He planned to grill this over a small quantity of charcoal on his Weber. He knew from experience that he didn't need an enormous amount of charcoal as the fat from the Wagyu steak would be running fast once the steak got hot. Mikael also knew he had to monitor the temperature of the meat carefully as he cooked the Tomahawk steak. So before the BBQ, our conversation was all about the Wireless| Smart Meat Thermometer he called a " Meater" and how it worked and would assist him in ensuring he delivered on the meal.
Best Preparation for Grilling A Wagyu Tomahawk Steak.
As I had never previously grilled a Wagyu Tomahawk steak, I asked Michael what he would recommend as a fellow BBQ enthusiast.
Now Michael is no expert but in essence, this is what he advised.
As he has a traditional Weber Charcoal BBQ he felt the best way to grill the Wagyu was known as the reverse sear method". This involves slow-cooking the steak over indirect heat until it reaches an internal temperature of 120°F (49°C) and then searing it over high heat for a few minutes on each side to create a flavorful crust. Mikael also followed a system which makes a two-zone fire on the grill, one to sear the steak over high heat for 1-2 minutes on each side, afterwards moving it to the cooler side of the grill . Here we finish cooking the steak until it reaches the desired internal temperature.
For a medium-rare Wagyu Tomahawk steak, the internal temperature should reach 130°F (54°C) after resting. This should take around 30-40 minutes on the grill depending on the thickness of the steak.
Recommended Seasoning
Concerning seasoning, Mikael also recommended seasoning the steak generously with coarse salt and black pepper before grilling. Some recommended ingredients to add flavour to the steak include garlic, rosemary, and thyme. Whilst we did not do the following he also advised if you were looking for a more unique flavour, you can also try using a Japanese soy sauce-based marinade or a coffee rub. (next time maybe! )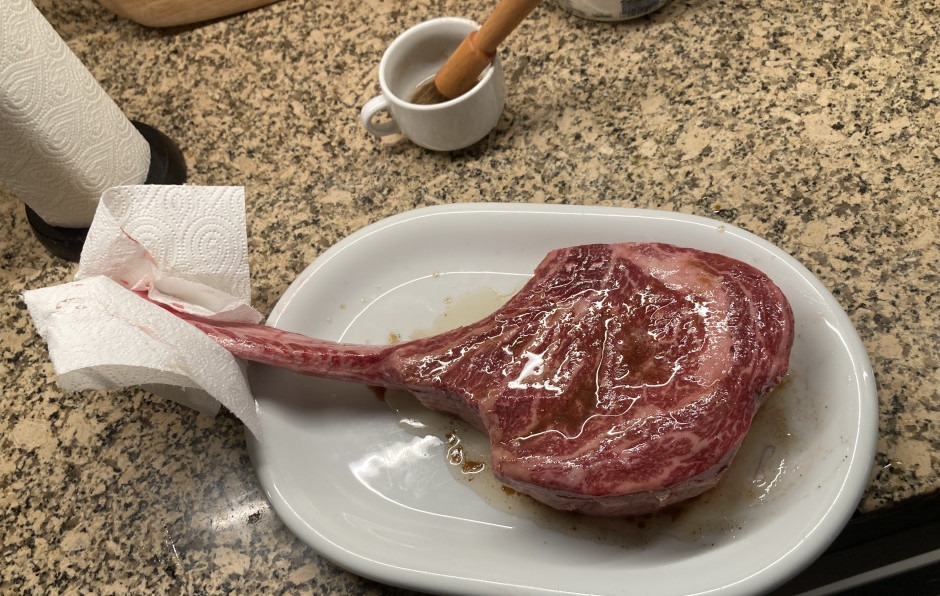 Illustration: Tomahawk Wagyu Steak
In terms of BBQ accessories, using a wireless thermometer is crucial to ensure that the steak is cooked to perfection. Our real-world experience as we cooked the Tomahawk steak was a small panic when the App started flashing warning signs, subsequently, a huge red warning message popped up on Mikael's mobile telephone as the steak's internal temperature level raised way above our desired cooking temperature.
We couldn't at the time see what was happening as the hood was on, but internally the heat had risen much faster than planned consequently, we saw a huge amount of flame as we removed the hood. A quick redistribution of the charcoal taking the meat off the direct heat and our temperature thermometer advised us we were saved and back on track. "Phew"
Seriously, the warning signal literally saved the day and our meal turned out perfectly. In our case, we used the MEATER, but other leading brands of thermometers such as the Weber iGrill, ThermoWorks Smoke, and the Maverick would also do the job. These can be sourced from their respective websites or from online retailers such as Amazon. Site links are below for ease of access. Having the thermometer and app that gave actual and accurate temperature guidance was incredibly reassuring and allowed Michael to converse with his guests whilst managing the BBQ outcome.
How Does The Wireless Smart Meater Thermometer Work?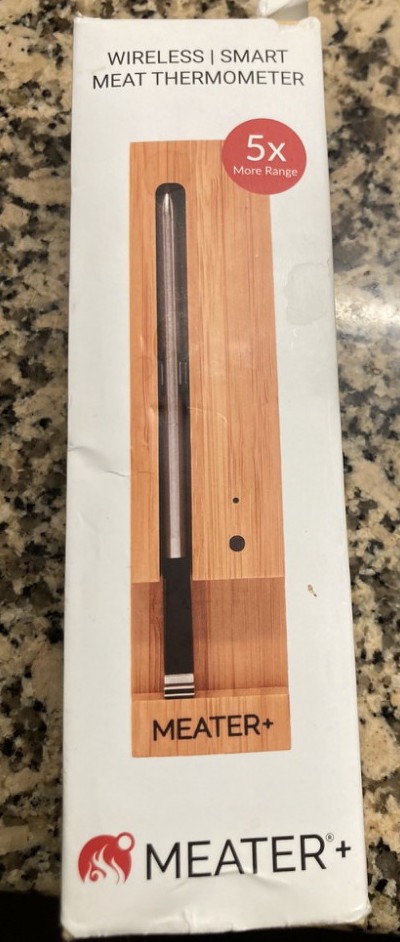 Getting started!
You need to charge the Meater (recommended charge is 4 Hours).
You need to Download the Meater app on your ios or Android Mobile phone. To do this visit meater.com/app. It took me less than 10 minutes.
Launch the Meater App.
Remove the Meater probe from the charger to turn it ON.
Follow the app instructions to pair the MEATER probe for the first time.
Some User advice you will receive with your MEATER.
Features
The Built-in Bluetooth repeater in the charger extends the wireless range up to 50m.
100% Wire-Free: No wires. No fuss. The first truly wireless smart meat thermometer.
2 Sensors, 1 Probe: Dual temperature sensors can monitor internal meat temperature and ambient.
Guided Cook System: Walks you through every step of the cooking process to guarantee perfect and consistent results.
Advanced Estimator Algorithm: Estimates how long to cook and rest your food to help plan your meal and manage your time.
Connectivity Suite: Monitor your cook from a phone or tablet over Bluetooth. Extend your wireless range using MEATER Link WiFi and the MEATER Cloud.
And hey ho off to the BBQ you go!


Available from either the Meater site or Amazon Store
Wagyu Tomahawk Steak recommended Ingredients and Recipes:
Salt and Pepper – season the steak generously with salt and pepper before grilling.
Garlic and Herbs – rub the steak with minced garlic and fresh herbs such as thyme, rosemary, and oregano for added flavour.
Chimichurri Sauce – serve the steak with a fresh chimichurri sauce made with parsley, garlic, red wine vinegar, olive oil, and red pepper flakes.
The Best BBQ Practices:
Preheat the grill for at least 15-20 minutes before grilling to ensure it reaches the desired temperature.
Use a wireless thermometer to monitor the internal temperature of the steak and avoid overcooking it.
Let the steak rest for at least 5-10 minutes before slicing to allow the juices to redistribute.
Leading Wireless Thermometer Brands & The Wireless Smart Meater Thermometer
Temperature Levels and Cooking Times:
Rare – 120°F (49°C) – 130°F (54°C) internal temperature, 6-8 minutes per side.
Medium Rare – 130°F (54°C) – 140°F (60°C) internal temperature, 8-10 minutes per side.
Medium – 140°F (60°C) – 150°F (65°C) internal temperature, 10-12 minutes per side.
Medium Well – 150°F (65°C) – 160°F (71°C) internal temperature, 12-14 minutes per side.
Well Done – 160°F (71°C) – 170°F (77°C) internal temperature, 14-16 minutes per side.
Download here our free Smoking and Temperature Cooking chart (enjoy).
Wagyu Tomahawk Steak, What is it?
Wagyu Steaks:
Wagyu, also known as Wagyu, is a breed of cattle originally from Japan known for its high level of marbling and rich flavour. The beef is often referred to as "Kobe beef" because of its origins in the Kobe region of Japan. Wagyu beef is different from other beef because of its unique texture, tenderness, and flavour, which come from the high levels of intramuscular fat. Eating Wagyu beef provides a high level of omega-3 and omega-6 fatty acids, as well as being a good source of protein and iron.
Wagyu beef is different from other beef due to its high marbling, hence making it more tender, juicy, and flavorful. We saw an example of how the beef literally cooked itself in our BBQ.
It is also rich in monounsaturated fats and omega-3 and omega-6 fatty acids, which provide numerous health benefits.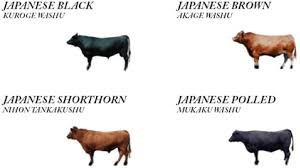 Wagyu (Wagyu means - "Japanese cattle". The character wa means "harmony, peace") is defined 
in Japan as meat from cattle raised and slaughtered in Japan, but provided that it is about any of the four animal breeds; Japanese Black, Japanese Brown, Japanese Polled and Japanese Shorthorn. Japanese Black is most common as it is the animal that delivers the most marbled and thus tenderest meat.

I Thank God For the Wireless Smart Meater Thermometer- Conclusion
After researching and consulting with my grilling enthusiastic friends we could say overall, the best BBQ practice is to take your time and not rush the cooking process. This will ensure that the Wagyu Tomahawk steak is cooked to perfection and will impress your guests.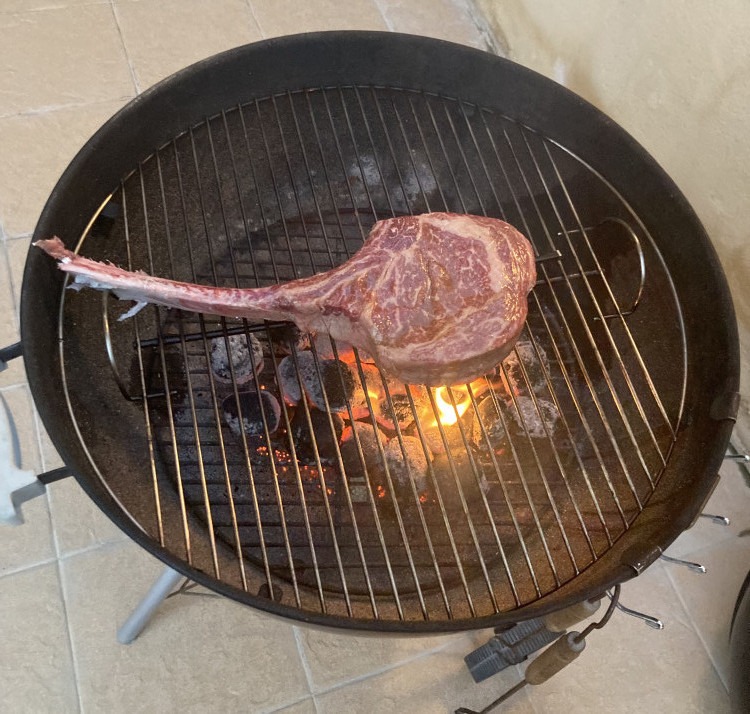 "As an Amazon Associate, I earn from qualifying purchases."