Are you on the lookout for the best 5 awesome BBQ Sauce Brands This Summer? There is no single thing that makes barbecued food irresistible; it's a combination of factors that come together to create the perfect dish. The best meat, the choicest vegetables, seasoning, the ideal cooking temperature, and the right amount of time spent cooking are all important. And then there's the sauce. So today, I felt we could share 5 awesome BBQ sauce brands you must try this summer.
I love sauce!
If I am invited to a barbecue and discover a good sauce, I am never shy about asking my host for their BBQ sauce recipe. They are generally happy to share, so I have quite a recipe collection.
Sometimes, of course, they'll fess up that the sauce is bottled. That's fine by me. I am not ashamed to say I don't always make my own. When there just isn't the time, or I don't have the right ingredients to hand, I use store-bought sauce. Bottled sauces are convenient, ready to use at a moment's notice, and they travel well. There are a lot of mediocre sauces out there, but there are also a great many top-quality, ready-made barbecue sauce brands available.
Today I am going to share a few of my hot favourites. Whether you're a fan of spicy and smoky, sweet and sour or hot and tangy, there'll be one for you.
5 Awesome BBQ Sauce Recommendations
Lillie's Q-Smoky Barbecue Sauce is a great smoky sweet sauce from Memphis. I use it on slow-cooked ribs, but it goes well with burgers, chicken and meatloaf too.
Heinz Single Serve Barbecue Sauce is tomato based with hickory overtones and is a great all-rounder. It goes well with chicken, pork, beef, vegetables and seafood. We sometimes use it as a base and add to it for a quick and easy "homemade" sauce.
Another to try is Open Pit Thick & Tangy Original. It certainly delivers on the thick and tangy promise. My wife loves the award-winning Blues Hog Original Sauce. She says she likes the way it sticks to the meat, plus it's gluten-free.
Overall our family favourite is Kosmos Q Cherry Habanero BBQ Sauce which is hot and sweet. The cherries give it a real tartness, and the habanero chilli has a kick. We use it as a dipping sauce as well as to cook wings.
Benefits of Store Purchased Ready Made BBQ Sauce.
Convenient – keep some in stock for use at a moment's notice
Use as a marinade or brush on sauce
Very little preparation – just open the bottle or jar
No messy cooking pans to clean
Easy to transport
What makes barbecue sauce great?
Let me tell you more about my favourite sauces. For me, Lillie's Q- Smoky Barbecue Sauce has the perfect combination of sweet and smoky. It contains no preservatives and is low-calorie, low-fat, and gluten-free. That makes it ideal for entertaining people with food allergies or if you are on a weight loss regime. Another no-fat, no-cholesterol option is Open Pit. It's a thick dark brown sauce which my wife and I use to marinate vegetables, but it works well on meats too. Heinz Single Serve Barbecue Sauce can be warmed in the microwave for a super quick addition to grilled meat. Blues Hog Original BBQ Sauce is great slathered on just about any meat. I can't say which of these sauces you'll like best because so much depends on your personal taste. Besides, there are so many other great-tasting sauces out there that I may have yet to find the best!
What I can do, though, is offer some tips for choosing and pairing your sauces with meats, seafood or vegetables. Consider how you want to use it: as a condiment or marinade. Provenance will also give you some clues. For example, a Kansas-style sauce will likely be thick and sweet without too much spice. If you prefer more heat and tang, then try a vinegar-based sauce which is a more Texan style of dressing.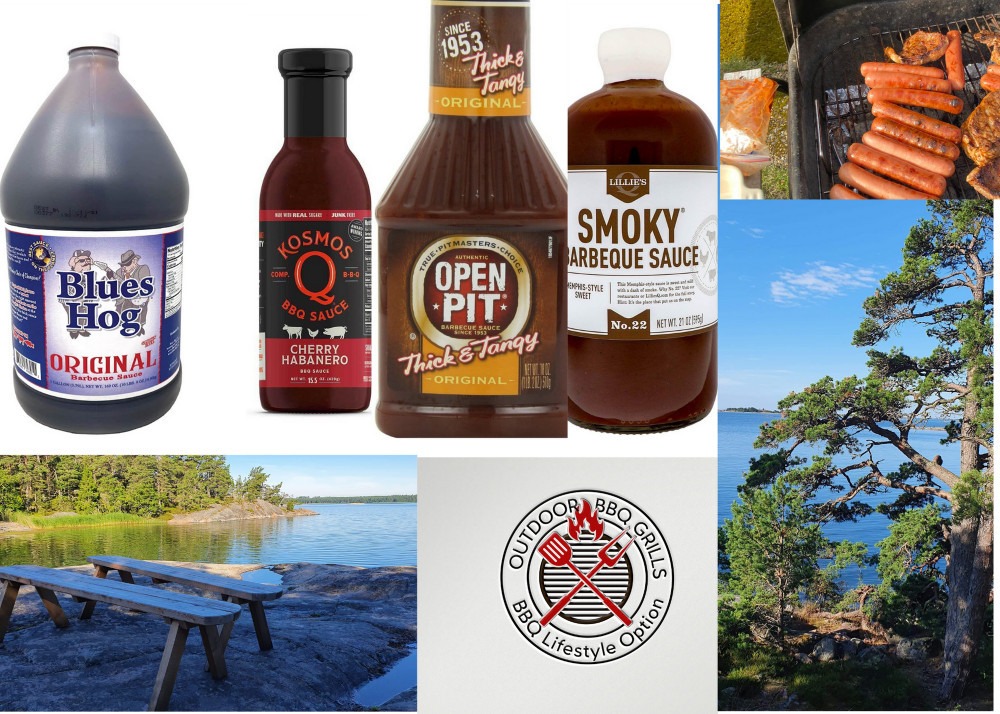 Most sellers go through a lot of trouble describing the flavours of their sauces, but a quick look through the ingredients will offer additional insight. Kosmos Q Cherry Habanero BBQ is neither a Kansas nor Texas-style sauce. It's more experimental. Among the ingredients are pure cane sugar, distilled vinegar, molasses, cherries, habanero mash, tamarind concentrate and vanilla extract. That immediately gives me a sense of the hotness and tartness I can expect from it. And if you find a bottled barbecue sauce that doesn't live up to expectations, don't waste it. It's easy to add some extra touches and change bland and boring to tangy and tasty. Mix in some powdered chipotle or some of your favourite hot sauces for added spice. Add tang with vinegar or smokiness with cumin and paprika. Experiment with mustard powder, garlic and plain old salt and pepper.
The Stars of Your BBQ- The Meat and the Smoke
With all the talk about the sauce, you may think I've forgotten the show's real stars.: the meat and the smoke. Don't worry; I haven't. An excellent barbecue sauce is there to add depth to whatever food you are serving it. But who doesn't love ribs slathered with some fruity sauce with a chilli kick? For an altogether different experience, try vinegar and mustard-based sauce. Or choose sweet molasses and tomato-based sauces for a more traditional crowd-pleaser. Remember, though, that the sugar in a barbecue sauce can burn quickly, so it's best to brush it on towards the end of your cooking.
About ten minutes before you take the meat off the grill, coat it with sauce all over. I often serve some extra sauce in a jug alongside the meat. If you want to do that, please remember to set aside the condiment sauce before you start coating the meat. That will prevent the risk of cross-contamination from uncooked meats and keep stomach upsets at bay.
Your sauce can take your Cookout From Good To Great.
Whether it's a sauce you made from scratch, bought and served from the bottle or bought and added to, it won't matter. A superb barbecue sauce can take your cookout from good to great and something special. It doesn't have to be high in calories, even if it's explosive in taste. You will be able to find options to cater for special dietary requirements like gluten intolerance or religious observances like kosher. There is a vast choice, and I have just told you about a few.
As the barbecue season gallops on, I hope you'll try some of these sauces. I'd love to know which you like.
Or are there any ready-made sauces you'd recommend that I haven't mentioned? Do you have any ideas for perking up a bottled sauce? Or will you share your favourite family recipe? I'd love to know.
"As an Amazon Associate, I earn from qualifying purchases."