With so many BBQ and Grill smoking times and temperatures chart options out there, here is a question? Which one should you use?
It's best to not sweat too hard over the choice; important, however, to determine you need one as an essential guide and then reference yourself back to the fact that smoking times and temperatures charts are ultimately only a reference; the final determining factor will always come back to is your meat cooked, and the best-determining measure. for this is the smoking temperature of the meat as the temperature at the conclusion of your cook means that the meat is safely cooked and good to consume.
Smoking times and temperature chart
The smoking time and temperature chart (downloadable here) will guide and assist in smoking the perfect juicy cuts of protein you have ready to cook. Our experienced BBQ enthusiasts have also contributed some helpful information about smoking. Included within the chart are
Download to find out more
How to smoke on a BBQ?
As I started to take my everyday experience of firing up the barbecue for our family social barbie event on-to, how can I make my event an experience and produce different outcomes and meals?
I began to reference the internet and different authorities within the cooking world to learn and better understand various techniques, recipes, and methods and even to know what in the world some of the words referenced. I mean, is a briaa the same as a BBQ?, or is a smoked Barbecue the same as a BBQ Sizzle?
At a particular stage (in the beginning), and with no instruction from any of my elders, I thought the term BBQ covered everything. Still, as I delved deeper into the subject, I became aware that it was a wide-ranging topic, with lots of different perspectives and opinions., techniques, recipes, and equipment.
Friends and Barbecues
Friends and barbeques, you might ask?
So, where to start?
In my case, I began after experiencing an outstanding Christmas meal at my good friend Werner's home. Werner is a dynamic and fun-loving German friend with whom I have shared numerous social occasions over the years. As ex-pats and living the ex-pat lifestyle, BBQs were a staple part of our daily social diet. But on this occasion, I wasn't expecting a BBQ, it was Christmas Day, and we were sharing our Christmas meal together as friends and family. I understood the main item on the menu was a turkey, but I had no idea it was to be a Kettle smoked Turkey. I
thought it would come out of the oven as a roasted turkey. You know…the way everyone cooks a turkey at Christmas (The Jamie Oliver way…)
So when we turned up for our planned Christmas Day Meal and gift giving, I did so with the understanding we were having Turkey as our main dinner item but was totally taken aback when I saw Werner outside cooking up the turkey on a Weber Kettle.
I soon realized he was smoking it and, throughout the course of the next few hours, got my first lesson and instructional insights into how to BBQ a smoked turkey. I wish today I had videoed this. He was terrific, and "yes," the outcome was perfect. I never knew before that day that fruit and beer could be used in the ways of BBQing. I was determined to face the challenge of how to prepare a smoked meal on a BBQ?. I certainly didn't want to poison anybody, nor did I want to spend a fortune on new equipment to find I didn't actually enjoy the experience or wouldn't use it often enough. I also started to take notes of how my friends went about their cookups and decided to learn from them. Admittedly the outcomes over time were both excellent and bad culinary experiences, but always fun.
Lessons on barbecuing
So barbequing lesson Number 1, on how to smoke protein on a BBQ? Grab your friend or a group of friends who know how to, and learn from them.
Lesson Number 2. Join a blog or a FB Group and learn from others.
Lesson Number 3. Take action: imperfect action is acceptable. You can only learn if you "Do It."
I mean, BBQing and smoking are not new. It has probably been our primary means of cooking since the beginning of time, or at least since Homo sapiens discovered fire and heat. Your ancestors undoubtedly sat around open fires with blazing wood and barbecued recently killed chunks of game or meat.
Our social events of today, where we gather for our summer BBQ with our friends and family, while undoubtedly different, are in many ways not so unfamiliar with the daily events of our ancestors who sat around in caves or around open campfires. The act of togetherness gathering for a meal is intrinsically ingrained within the human DNA, no matter where you come from in our big wide world, immigrated from or ….
Barbeque, in many ways, connects us with our primitive roots. Barbeque cooking with smoke links us with the practices of our primordial ancestors.
Setting up for smoking.
Take the following simple steps to prepare your setup and use a regular kettle barbecue for indirect hot smoking. ( look here for more on how to set up your barbecue for direct and indirect cooking).
Ignite a small pile of coals and keep them to one side – these will be your indirect heat source. A charcoal chimney starter is a fast and safe Barbecue Accessory that can assist here!
Place your smoking wood of choice on top to create your smoke.
Reference your (downloadable) smoking times and temperature chart to determine the temperature and estimated smoking time to ensure your hot-smoking meats are cooked.
Control the level of heat and smoke with the volume of charcoal you have burning. Note that airflow power's the burn and subsequently the hotness of your coals. The density and amount of wood you have on the coals to smoke will also impact the heat. More coals and airflow will mean more heat and vice versa. Be careful regarding your temperature – gentle smoke is always best, and pumping up the heat will give you acrid smoke, impacting your food taste outcomes.
Choose your Smoking woods before you start your cook-up. Smoking woods generally fall into three main types:
1. Hardwoods– oak, birch, and beechwood
2. Fruitwoods-apple, cherry, and pear.
3. Nut woods such as hazel and pecan.
They all have remarkable unique characteristics worth exploring, as they all provide a unique experience as they impact the lovely toast smokiness you get from your cook-up. How about experimenting with your own blends and the type of protein you coo?. Be aware, however, of any toxic impacts from wood, and ensure you know that you have purchased quality and vetted brands of wood chips.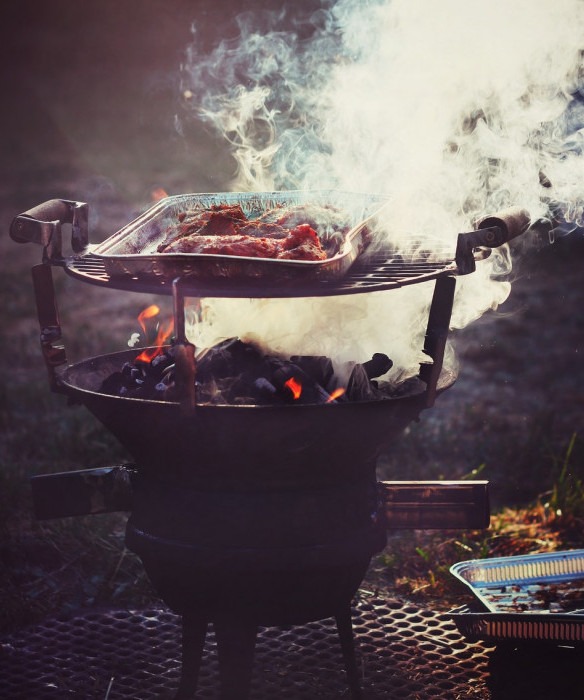 Extra Elements Ingredients.
Place on any extra elements such as herbs – rosemary, bay, and thyme. They are fantastic smouldering away, but be careful as they're pretty solid flavours and should be used sparingly.
Suggestions:
Rosemary
Bay Leaves
Thyme
Cinnamon
Crushed Red Pepper
Oregon
Take action and remember Lesson One, i.e., don't be afraid to learn from a friend, take some action, and look forward to some excellent outcomes.
References
I often take the opportunity to reference other BBQ sources to provide good quality and qualified information. In today's article, I have referenced information from :
www.smokedbbqsource.com/smoking-times-temperatures
https://www.smokong-meat.com
www.greatbritishchefs.com
"As an Amazon Associate, I earn from qualifying purchases."