Have you ever wondered what time of the year or where you should look to review the best BBQ Grills Sale opportunity? Well, I have. And with the vast amount of information on the web, I have always struggled to find where the best buy is. 
Our article is here to give you some guidance on the best monthly deal we have found. Be aware, this is our opinion and you may find others that are better suited to your particular search. Look below for more detail.
The Reality of course is that any of us could simply drive into town and visit the largest Barbecue retailer. With the likes of Barbeque Galore or Walmart view of everything in one place is always an option. But whilst that seems to be the logical and sensible approach, it's also where the problem starts for me.
The Magpie Approach To BBQ Grills Sale Shopping Excursions.
Yes, I admit it, I am a serial spontaneous shopper, and it's been known that some people say my alter-character is that of a Magpie. I know now you are simply asking, what in the heck is a Magpie? Well to keep things short, it's a bird, a very clever, aggressive, curious bird. The magpie loves shiny objects and it's forever trying to take these shiny objects home… sound familiar. Yes, I like Barbeques and maybe…just maybe, over many years I have hoarded a  few,  as could be evidenced if you look at my balcony, deck and backyard at home.
I have always found that the best way to shop is to listen to tips from people who have shopped for BBQs in the past. It is always good to learn from others and find out how they did their research. So be aware, avoid the Magpie approach and get some tips and research concepts in play before you jump into that next BBQ purchase.
Tips that help you secure a better deal from a BBQ Grills Sale
1. Look for the floor model, it may have been on display and more than likely has been touched more than once. Don't mind that, with a good first-up scrub any sticky fingers can be eliminated. Don't forget it is still new and you may find the store is willing to provide a discount with a bit of haggling. 
2 Buy before summer. In summer you are buying when everyone else is, it's in demand, whereas if you shop just before (spring) or in winter you will find the bargains and get more barbeque for your buck!
3. Look for the clearance section, last year's "old" model can very often be purchased at a great value, and let me be honest it's still new and a great model is always a great model.
4. On Major holidays such as the Fourth of July, Thanksgiving, and Memorial Day you will find that retailers will have geared up on special discounts and offers during these times. They know we have some spare time, and look to take advantage of the moment when we may be in the mood with time to shop. With holidays and spare time, what better way to spend it than to turn a shopping activity into a positive outdoor activity, in this case, barbequing!
So if you are getting close to a major holiday, look closely at the "special" offers that will be released.
As a shopper looking to purchase a barbecue grill, there are several research approaches you can take to determine the best one suited for your needs. Here are the top three approaches I would follow:
Top 3 Research Approaches To Buying Your Next Barbecue Grill
Read product reviews: Unquestionably one of the best ways to determine which barbecue or grill is best suited for you is to read product reviews. You can do this by searching online for reviews on specific models, or by reading reviews on shopping sites such as Amazon or Home Depot. Be on the lookout for reviews that are detailed and provide pros and cons. You are looking for reviews that give informative feedback on the grill's performance, durability, and ease of use. You should be able to establish a sense of what others have experienced with the grill, and whether it will meet your needs.
Ask for recommendations:  Always ask people you trust for recommendations. There is nothing better than having feedback from friends or associates who are the actual owners of a particular BBQ Grill. You may even be able to experience the use of friends' barbecues and accessories before you step into the purchase mode.
Search for reviews: With today's access to blog reviews, YouTube reviews and leading brand website demonstration videos, you will find there are plenty of recommended ways to review how the product works.  So take that next step and dive into your circle of friends,  family, or online communities. If you know someone who has a grill that they love, ask them about it and what they like and dislike about it.
Forums: can also join online forums or groups dedicated to grilling and ask for recommendations from fellow enthusiasts.  Following you can find listed a couple of popular FB Forums you could initially look into This approach can be particularly helpful if you have specific needs or preferences, such as a certain type of fuel, size, or features.

a. BBQ Pitmasters (https://www.facebook.com/groups/BBQPitmasters/)
b. BBQ Pit Boys (https://www.facebook.com/groups/BBQPitBoys/)

Visit a store and compare grills: Finally, consider visiting a store that sells grills and comparing different models in person. This will allow you to get a sense of the grill's size, features, and build quality, as well as ask questions of the sales staff. You can also test out the grill's knobs, burners, and other features to get a feel for how it operates. This approach can be particularly helpful if you are unsure about what you want or need in a grill, or if you want to see and touch the product before making a purchase.
Famous Brands and Leading Stores
Just for the record we have listed some of the leading brands. These are linked to the BBQ Brands websites where you can seek additional information at any time. As these sites are regularly updated, you should also find the information they publish is current.
1. Weber – https://www.weber.com/
2. Char-Broil – https://www.charbroil.com/
3. Traeger – https://www.traegergrills.com/
4. Napoleon – https://www.napoleongrills.com/
5. Big Green Egg – https://www.biggreenegg.com/
BBQ Grills Sale By Month.
March 2023 – Recommended Sophia & William BBQ Grills on Sale Available on Amazon
Sophia & William 
Heavy-Duty Charcoal BBQ Grills Extra Large Outdoor Barbecue Grill with 794 SQ.IN. Cooking Area, Dual-Zone Individual and adjustable Charcoal Tray and Foldable Side Table, Black
 Introducing the Sophia & William Heavy-duty Charcoal BBQ Grill, a powerful and versatile outdoor barbecue grill that can handle any grilling task. With a total of 794 square inches of cooking space, including 505 sq. in. porcelain-enamelled iron cooking grates and 289 sq. in. warming rack, this grill is ideal for large parties or events of 10-15 people.
Unique Design
The adjustable charcoal tray features a lifting handle on both sides, allowing for an immediate increase in temperature without having to mess with the grill or fuel.
The unique design includes a lid-mounted temperature gauge, side dampers for efficient burning, a smoke stack with an adjustable cap, and two foldable side shelves with integrated S hooks and a large bottom shelf to keep your multiple grill accessories within easy reach.
This heavy-duty BBQ charcoal grill also features individual dual doors with cool-touch metal handles, a full-size push-out ash pan for easy clean-up, and measures 27″D x 64″ W x 49″H with a cooking space of 10″ from the grill to the top of the closed lid.
Parts and Warranty
Sophia & William offer 12-month quality assurance, and all missing parts or damaged pieces during shipment are replaced at no charge. With Sophia & William's Heavy-duty Charcoal BBQ Grill, you can rest assured that your grilling needs will be satisfied.  
4.2 out of 5 stars (71)
Save 8%
Lowest price in 30 days
For additional information visit Amazon's listing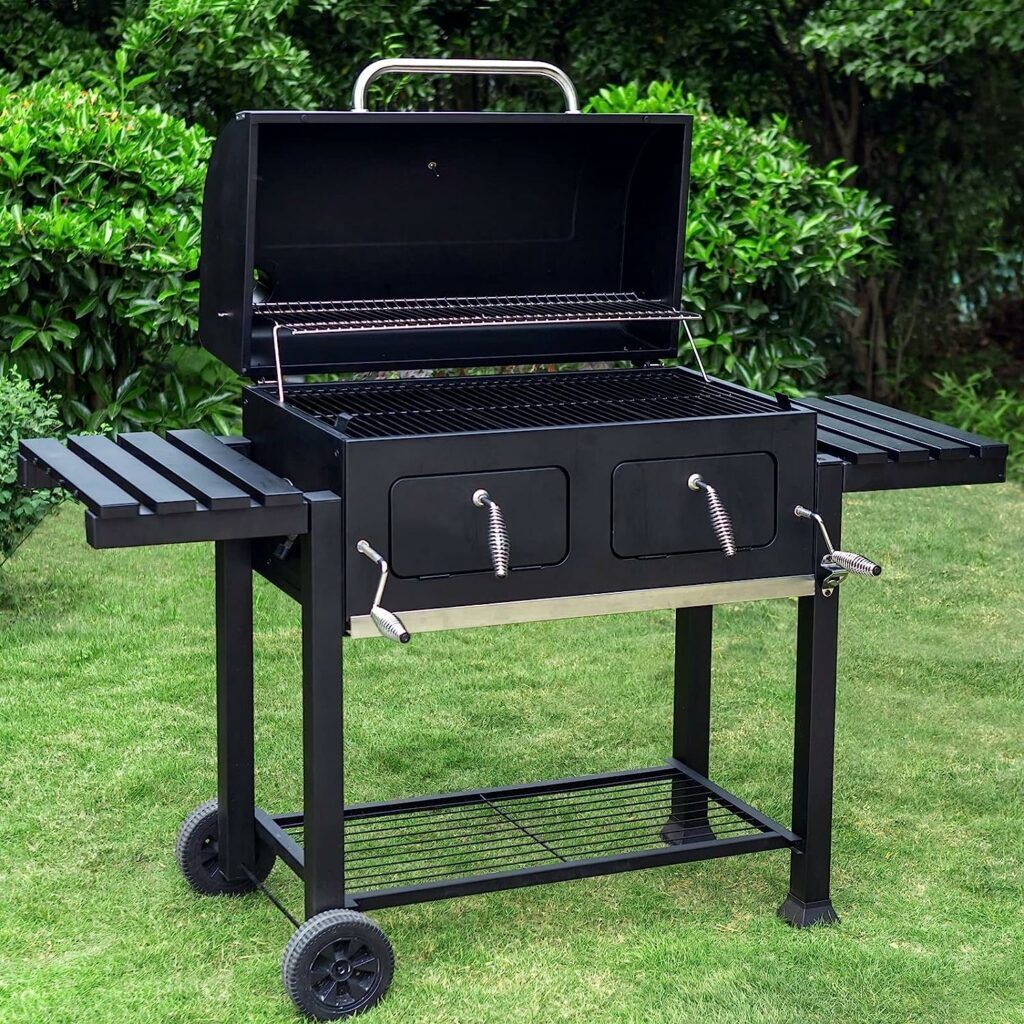 "As an Amazon Associate, I earn from qualifying purchases."