After decades of charring and ultimately producing dried untasteful chicken for fear of giving the family food poisoning, I went on the hunt for a beer can chicken oven that would eliminate my fear of roasting chicken and assist me in delivering that moist, BBQ-roasted outcome I desperately desired. It was time to eliminate any fears of poisoning friends and family and get my Chicken grilling techniques up to standard. This is what I discovered and what I ended up purchasing.
We are not alone- How To Grill Chicken Safely Is A Fear of Many Not Just A Few
Grilling Chicken is a fear of many, not just a few. It must be, otherwise, why would the CDC-Centers for Disease Control and Prevention have a whole section on how to Grill Safely? If they think it's important to publish about this subject then in the "most" perverse way I kind of felt relieved because it's not just me who spent decades worrying about undercooked chicken and thereafter producing the exact opposite 'overcooked chicken. There is nothing worse than overcooked chicken. Oh hang on a second, that's not true, there is.. undercooked chicken
Before detailing my discovery on this month's best buy for a beer can chicken oven, I have taken some lessons to heart from reviewing the CDC's publication and will share some here for ease of reference.
What You Need to Know When Handling Raw Protein
The CDC comment on handling raw meat, chicken and other poultry, and seafood. They advise the following.*
Separate it from other food
Refrigerate it before grilling
Wash your hands before and after handling it
Make sure its juices do not touch other food, utensils, and surfaces
Use a food thermometer to ensure it is cooked to a safe internal temperature (don't forget we offer a free downloadable temperature cooking chart)
Refrigerate leftovers within 2 hours of cooking*
*(above information was sourced from CDC https://www.cdc.gov/foodsafety/communication/bbq-iq.html)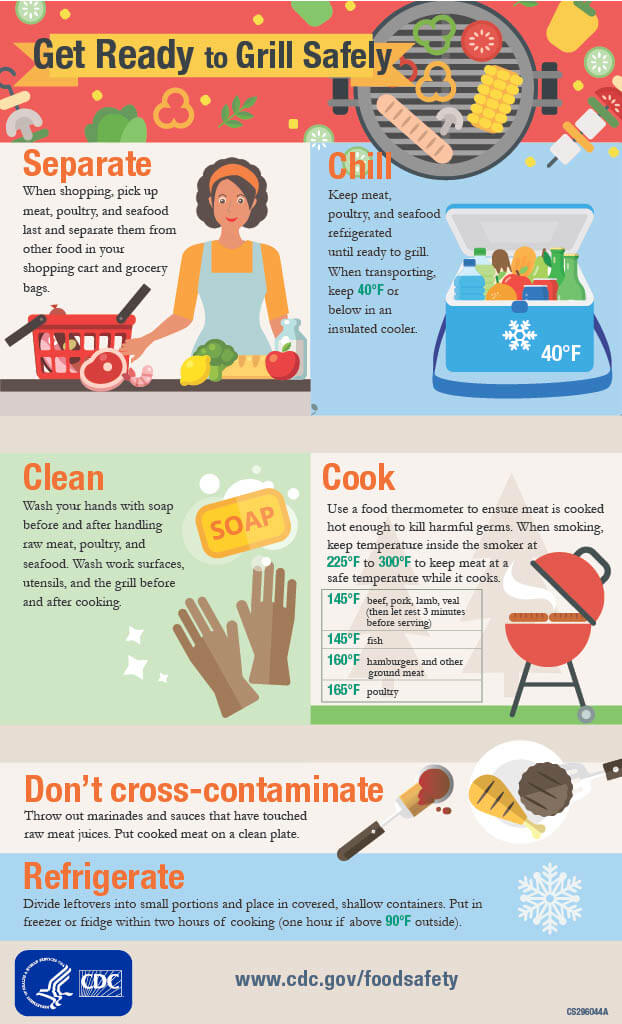 The Great "Beer Can Chicken Oven" holder from Weber
After looking at various equipment options that could enable the safe cooking of beer can chicken, I determined that the Weber version may very well meet my requirements. The Weber unit is coated in Teflon so nothing will stick to it (easy to clean criteria-Tick) additionally, it does have a receptacle to put in beer or your favourite soda (tick-gone is my fear of having to place a beer can somewhere). The user instruction clearly indicates a requirement, in fact, it insists on you using some type of liquid before using it to make your chicken.
 This product eliminates any dripping on the coals or fire so no flare-ups.
I have used it on both my charcoal barbecue and my gas BBQ.  It's easy to load, transport, and clean. No mess or fire in the bbq. I love these and the results are phenomenal. The chicken is moist and flavorful. I've used beer only, but I'm sure it would work just as well with flavoured soda if cooking with alcohol is a concern. (Yip, I think I'll try it soon as I have a few friends from the Middle East who would enjoy this meal).
 The Teflon container is in effect a drip pan, with a hollowed pipe-like structure to contain the beer or fluid. A  spear-like cylinder is placed over the liquid container, it has some small vents that leak fluid into the cavity of the bird as it cooks, ensuring the chicken cavity is moist throughout the grill session.
The Teflon container is sizable enough to ensure I could place a good-sized chicken on it, with no overhanging bits. (tick) Any splash or dripping of fat from the chicken fell into the drip pan, ensuring no sudden flaming took place. With a well-marinated chicken rub (I do recommend the Weber Roasted Garlic Herb Seasoning) I then placed my thermometer into the fleshy part of the chicken and watched it cook away. 
The last part of the equipment is a black cap-like plug, which is used to insert into the chicken's neck hole. Use the little plug to close the top gap beside the neck, then pop the dish onto your barbecue for between 60 and 90 minutes at 180 degrees.
It's Ready-Come And Get It
Close the lid and check the temperature of the inner legs after an hour. When the internal temperature of the chicken is 75 degrees you are done. Your thermometer will ensure you get an accurate reading on this. My grill took 75 minutes and I had been informed that somewhere between 60 to 90 minutes was normal. 
I simply had to take the chicken off the DripPan, remove the cap which is placed into the neck area to keep heat enclosed, then allow the grilled chicken to rest for ten minutes in tin foil, and hey presto, we were ready to crave it apart. Just a quick word of care. The plug will normally have sunk down the neck hole slightly and this will be hot as you remove it. Be careful not to burn yourself from the hot plug.
The chicken juices combined with stock will have made a wonderful gravy, the skin will be cooked and crispy and the flesh will be moist. If you use this equipment and follow the recommended process, the outcome is pretty much assured and your meal will be juicy and tasteful.
Having used the Weber Beer Can Chicken Oven Roaster- I consider it one of the Best Roasters Out There.
A beer can it isn't!
A beer can it isn't, it's so much more.
Made to last, easy to use and easy to clean up from, I highly recommend this product when considering your BBQ equipment accessories. You can purchase alternate pieces of equipment which may make this look slightly pricey, but if you consider the full outcome of your grill and This is pretty well foolproof and although pricey is solid and well made.
Conclusion
PROS: The Weber Beer Can Chicken Roaster is well constructed. Quality-made, Teflon coated, with a container that holds the liquid securely.
CONS: The Cap can be a little awkward to remove and you need to be careful as it may burn you if not handled with care. The liquid container is slightly on the small side and I wonder if it could be even more effective if slightly bigger.
Full Disclosure: I liked this equipment so much, I have purchased it and do recommend it to others.
As I am on a quest to review other types and pieces of equipment I would love to hear from others on their experience with this piece of equipment and with other brands and types. I have no issues with finding alternatives and would be interested to hear from you if you have experience with alternative brands. Please make contact us in the comments section below or email me at editor@outdoorbarbequegrills.com
Weber 6731 Poultry Roaster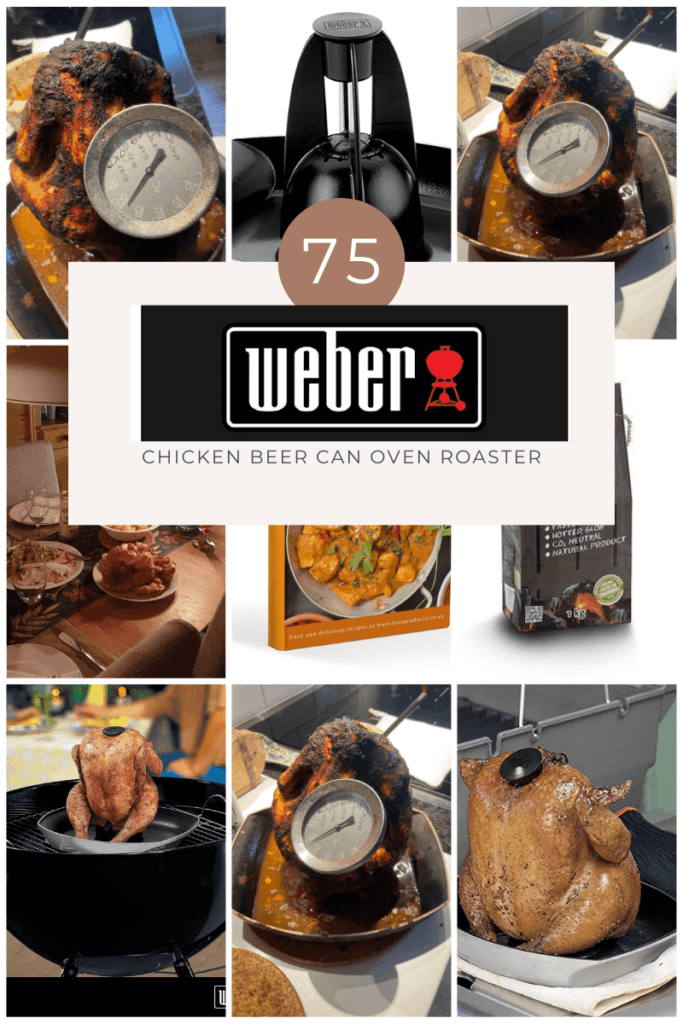 Prepare a crispy yet moist chicken with flavours only produced by beer, juice, or wine. The Deluxe Poultry Roaster holds liquid that fills your poultry with flavour and has a cap to lock in the steam, capturing juices for basting. After the plates have cleared and the stomachs are full, the ceramic non-stick coating makes cleanup easy
About the Beer Can Chicken Oven
Style tools will look great and perform well with your Weber grill
Infuse poultry with moisture and flavour
Non-stick, ceramic coated
Fits all Weber full-size gas grills and 22.5-inch or larger charcoal grills
"As an Amazon Associate, I earn from qualifying purchases."