Introducing the LotusGrill Teppanyaki Plate – the perfect addition to your Asian cuisine collection. This versatile plate can be used on both sides, making it easy to cook your favourite dishes. Whether you're grilling with or without a hood, this teppanyaki plate will provide exceptional results.
The LotusGrill Teppanyaki Plate is designed with a high-quality special-purpose alloy, making it durable and long-lasting. The centering ring ensures that the plate fits perfectly with the LotusGrill Classic, giving you a hassle-free cooking experience.
This double-sided Teppanyaki plates' non-stick coating makes cleaning up a breeze, saving you time and effort. With a weight of just 2.2 kg and dimensions of approximately 291 mm in diameter and 35 mm in height, this teppanyaki plate is compact and easy to store.
Bring the authentic taste of Asian cuisine to your home with the LotusGrill Teppanyaki Plate. Try it today and experience the convenience and quality of this exceptional product.
Product Name: LotusGrill Teppanyaki Plate

Website: Available online in New Zealand – Germany– Sweden– UK – Singapore

Brand Owner: LotusGrill GmbH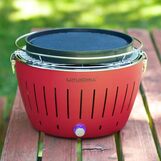 LotusGrill: Innovating Your Grilling Experience with Portable BBQ Perfection
In the world of innovative barbecues and accessories, one name shines brighter than the rest: LotusGrill. As a subsidiary of the revered household goods and kitchenware manufacturer, LotusGrill GmbH has established itself as a pioneer in the realm of portable grilling solutions. But how did this remarkable journey begin, and what makes LotusGrill so special? Let's dive into the backstory of this exceptional product and its dedicated creator.
The Birth of LotusGrill
LotusGrill GmbH's roots trace back to its parent company, Lotus, a renowned manufacturer of household goods, kitchenware, cookware, and barbecue utensils. However, LotusGrill was not content to rest on its laurels. Instead, it embodies a spirit of relentless innovation and the pursuit of perfection. The creators behind LotusGrill are passionate and inventive individuals who are constantly brainstorming new concepts and tirelessly refining their projects.
The inception of the groundbreaking LotusGrill can be attributed to a simple yet sizzling-hot idea – to revolutionize the grilling experience by making it simple, speedy, and safe. This idea gave rise to the original G340 model, which quickly gained widespread acclaim. As time passed, LotusGrill introduced several other models to cater to varying needs and preferences. Presently, their product range includes the G280, the LotusGrill XL, and the XXL, complete with a specially designed wheeled trolley for added convenience.
A Commitment to Quality and Sustainability
LotusGrill GmbH is more than just a company; it's a family-owned and operated venture. This independence allows them to prioritize what truly matters – innovation and sustainable quality. Their LotusGrill isn't merely a cooking device; it's a lifestyle product that has earned numerous accolades and a global reputation.
Reaching Every Corner of the Globe
The success story of LotusGrill isn't limited to a single region; it's a worldwide phenomenon. People in over 25 countries, spanning different continents, have embraced the low-smoke LotusGrill as a must-have addition to their culinary arsenal. From the United States to New Zealand and Australia and many places in between, individuals are experiencing the joy of grilling chicken, fish, meat, and vegetables with LotusGrill
Elevate You're Grilling Experience with Teppanyaki: A Japanese Tradition Meets Modern Innovation
When it comes to grilling, there are fewer methods as captivating and delicious as Teppanyaki. This Japanese cooking tradition has made its way into the hearts and kitchens of food enthusiasts worldwide. In this section, we will delve into the origins of Teppanyaki, the art of cooking on a Teppanyaki grill, the types of meals you can expect, and even share some mouthwatering recipes to elevate your culinary experience.
The Essence of Teppanyaki Grilling
Teppanyaki, which translates to "grilling on an iron plate," finds its roots in Japan. The technique is centered around a flat iron griddle, where skilled chefs artfully prepare meals right before your eyes. This theatrical style of cooking has a rich history and is deeply intertwined with Japanese culinary culture.
The Tradition of Teppanyaki
Teppanyaki isn't just a cooking method; it's a culinary performance. The origins of Teppanyaki can be traced back to early 20th-century Japan when chefs began cooking Western-style dishes, such as steak and seafood, using this innovative technique. What sets Teppanyaki apart is its emphasis on precision and entertainment, as chefs dazzle diners with their knife skills, juggling acts, and flaming grill displays.
Types of Meals You Can Expect
Teppanyaki offers a diverse range of meal options to cater to every palate. Here are some common dishes you can expect to find at a Teppanyaki restaurant:
Hibachi Steak: A succulent, perfectly grilled steak seasoned with a delightful blend of spices.
Seafood Delights: Fresh seafood, including shrimp, scallops, and lobster, cooked to perfection.
Chicken Teriyaki: Juicy chicken breast cooked with a sweet and savory teriyaki glaze.
Vegetarian Delights: Teppanyaki also caters to vegetarians with a colourful array of grilled vegetables and tofu.
Rice and Noodles: Teppanyaki chefs often prepare fried rice and stir-fried noodles with an array of ingredients, adding an aromatic touch to the meal.
Teppanyaki Plate Grill Recipes
Now, let's explore some delectable Teppanyaki grill recipes that you can recreate at home. These recipes will help you bring the captivating flavours of Teppanyaki to your own kitchen:
Teppanyaki Garlic Butter Shrimp: Marinate shrimp in a mixture of garlic, butter, soy sauce, and lemon juice. Grill them to perfection for a mouthwatering treat.
Teppanyaki Hibachi Vegetables: Create a colorful medley of vegetables like zucchini, bell peppers, and onions, seasoned with a light teriyaki glaze.
Teppanyaki Teriyaki Chicken: Grill chicken with a delicious teriyaki sauce made from soy sauce, sake, mirin, and sugar.
Teppanyaki Fried Rice: Whip up a classic fried rice dish with a Teppanyaki twist, including vegetables, eggs, and a dash of soy sauce.
Teppanyaki Garlic Noodles: Prepare garlic-infused stir-fried noodles with a tantalizing blend of sauces and toppings
Unlocking the Flavour Of Your BBQ with a Teppanyaki Plate
For those who want to experience the magic of Teppanyaki at home or on the go, a portable Teppanyaki grill is a game-changer. These compact grills bring the excitement and taste of Teppanyaki right to your own kitchen or outdoor gatherings.
Conclusion
Incorporating Teppanyaki into your culinary repertoire allows you to savour the flavours of Japan's rich cooking heritage. With the guidance of these recipes and a portable Teppanyaki grill, you can embark on a gastronomic journey that seamlessly combines tradition and innovation, turning every meal into a captivating performance.