Portable BBQ Perfection: Top 10 Features You Can't Grill Without. Hello there, fellow barbecue enthusiasts! Are you ready to elevate your grilling game and bring the taste of barbecue to the great outdoors? If your answer is a sizzling "yes," then you've come to the right place. Portable barbecues are your gateway to delicious outdoor adventures, whether you're camping, picnicking, or hosting a backyard party. But with a multitude of options on the market, how do you select the perfect portable BBQ that suits your needs and culinary aspirations
In this comprehensive guide, we'll explore the top 10 must-have features that will make your portable barbecue experience truly exceptional. Say goodbye to lacklustre outdoor grilling and hello to mouthwatering, smoky perfection. So, let's fire it up and dive right in!
1. Compact and Lightweight Design Portable BBQ
When it comes to portable barbecues, size and weight matter significantly. Picture this: you're heading to your favourite camping spot, and the last thing you want is a bulky, cumbersome grill. Look for a portable barbecue that boasts a compact and lightweight design. This ensures that it's easy to transport and store, making your outdoor grilling adventures a breeze, not a workout.
But what brands offer such compact and lightweight grilling solutions? Well, let's dive into some research and find out.
Brands Offering Compact and Lightweight Portable BBQs
Napoleon Grills offers a range of portable grills that combine compactness with impressive grilling performance. Their portable BBQs are known for their durability and sleek design, making them a top choice for those on the go.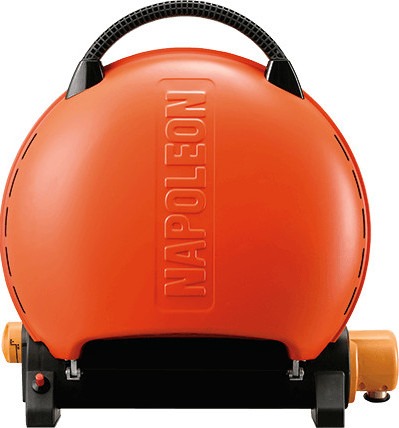 Weber is a trusted name in the grilling world, and their portable BBQs don't disappoint. These grills are known for their ease of use and exceptional portability, perfect for outdoor enthusiasts.
2. Sturdy Construction
Durability is paramount, especially when you're grilling on the go. A sturdy construction ensures your barbecue can handle the elements and withstand a few bumps along the way. No one wants a barbecue that falls apart after a few outdoor adventures. Look for materials like stainless steel or cast iron that can stand up to the rigours of outdoor cooking.
Brands Offering Sturdy Construction Portable BBQs
Coleman is a go-to brand for outdoor gear, and their portable BBQs are built to last. They're designed with durability in mind, making them an excellent choice for those who love the great outdoors.
Cuisinart's portable BBQs are not only known for their cooking performance but also for their robust construction. These grills are ready to take on your outdoor grilling adventures.
3. Easy Assembly and Disassembly Are Essential To Your Portable BBQ
Time is precious, and no one wants to spend hours wrestling with their barbecue to figure out how to set it up. Opt for a portable grill that offers easy assembly and disassembly. This way, you can focus on what truly matters: the mouthwatering food and the good times with friends and family.
Brands Offering Easy Assembly Portable BBQs
3.1 Blackstone – Blackstone Portable BBQs
Blackstone's portable grills are designed with user-friendliness in mind. They are easy to set up and get grilling quickly, allowing you to enjoy your outdoor cooking without hassle.
3.2 Camp Chef – Camp Chef Portable BBQs
Camp Chef offers a range of portable BBQs that are renowned for their simplicity. These grills are perfect for those who want to spend more time grilling and less time assembling.
3.3 GoBQ Portable
The GoBQ Portable grill is engineered for easy assembly and disassembly. It's designed for adventurers who need a grill that's quick to set up, so you can start grilling sooner.
4. Adequate Cooking Area
While portable barbecues are generally more compact than their full-sized counterparts, having enough cooking space is crucial. You want a grill that offers an adequate cooking area without compromising on portability. It's all about finding the right balance.
Brands Offering Adequate Cooking Area Portable BBQs
4.1 Char-Broil – Char-Broil Portable BBQs
Char-Broil's portable grills are known for their efficient use of cooking space. Despite their compact design, they provide enough room to grill your favourite meats and veggies.
4.2 Pit Boss – Pit Boss Portable BBQs
Pit Boss offers portable BBQs that strike the perfect balance between size and cooking area. You won't have to compromise on grilling space with their innovative designs.
4.3 George Foreman Plate Grill
The George Foreman Plate Grill is a fantastic option for those who want a compact grill with enough cooking space. It's known for its versatility and efficient use of the grilling area.
4.4 Weber Traveler Portable Grill
Weber's Traveler Portable Grill offers a balance of portability and cooking space. It's perfect for those who require a bit more room for grilling.
5. Versatility
A great portable barbecue should be versatile enough to handle various cooking methods. Whether you're in the mood for direct grilling, indirect grilling, or even smoking, make sure your grill can do it all. It's like having a culinary Swiss army knife at your disposal.
Brands Offering Versatile Portable BBQs
5.1 Weber Q 1200
The Weber Q 1200 is known for its versatility. It's equipped to handle a variety of cooking techniques, from direct grilling to roasting, making it a top choice for grill masters.
5.2 Weber Q 1000
Weber's Q 1000 model also shines in the versatility department. It's designed for those who want the flexibility to grill in different styles.
5.3 Cuisinart Venture Grill
The Cuisinart Venture Grill is versatile and ready to handle various cooking methods. It's perfect for those who like to experiment with different grill recipes.
5.4 Big Green Egg MiniMax
The Big Green Egg MiniMax is a unique, ceramic Kamado-style grill that excels in versatility. It can sear, smoke, roast, and even bake, making it a true all-in-one cooking solution.
Stay tuned for the next section of this extensive guide, where we'll explore temperature control, easy-to-clean features, fuel efficiency, additional accessories, and value for money. With these features at your fingertips, you'll be well-equipped to make an informed decision on your next portable BBQ purchase.
We'll continue the guide with the remaining features in the next section to provide a comprehensive overview of the must-have aspects of your portable barbecue.
5.5 Z Grills Cruiser 200A
Renowned as the "Best Portable Pellet Grill for Tailgating & Camping". Enjoy wood-fired meals hot off the grill wherever adventure takes you.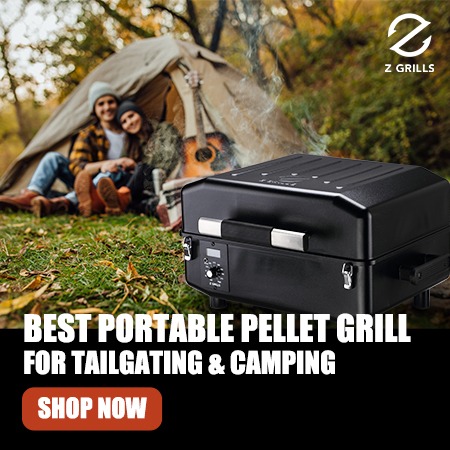 The Cruiser 200A is the perfect grill for small families, apartment dwellers, campers, tailgaters, RVers, or the single griller. This tabletop pellet grill provides rich wood-fired flavor in a transportable package. With precision digital temperature control, you can simply set it and let it do all the work for you. Whether your next adventure calls for grilling, smoking, baking, roasting, searing, braising, barbequing, or char-grilling — from the backyard to the backcountry — the Cruiser has you covered. It's never been this easy to create superior-tasting food while adventuring.
6. Temperature Control
Precise temperature control is the secret to perfectly cooked barbecue delights. Seek a portable grill that provides excellent temperature control, allowing you to adjust the heat according to your culinary needs. This way, you can achieve mouthwatering results every time you fire it up.
Brands Offering Precise Temperature Control Portable BBQs
6.1 Weber Q 1200
The Weber Q 1200 model is well-known for its exceptional temperature control. It allows you to fine-tune the heat to achieve your desired grilling results, from searing to slow cooking.
6.2 Cuisinart Venture Grill
The Cuisinart Venture Grill also excels in temperature control. It offers precise adjustments, ensuring that your meals are cooked to perfection, no matter where you're grilling.
6.3 Big Green Egg MiniMax
The Big Green Egg MiniMax stands out with its outstanding temperature control. It's a Kamado-style grill that's renowned for maintaining a stable and consistent temperature throughout your grilling sessions.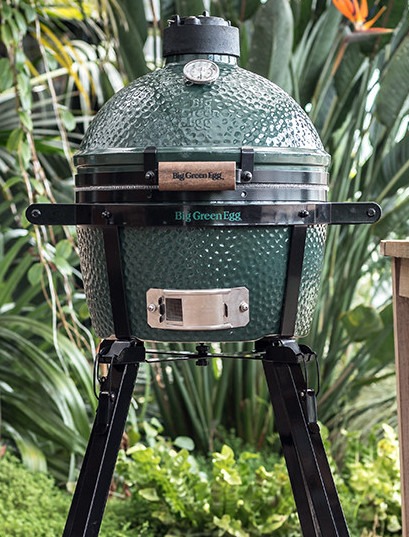 7. Easy-to-Clean Features With A Portable BBQ
Let's face it, cleaning up after a barbecue session is not the most exciting part. However, choosing a portable grill with easy-to-clean features can make your post-grilling routine a breeze. Look for grills with removable grates, drip trays, and dishwasher-safe components to save you time and effort.
Brands Offering Easy-to-Clean Portable BBQs
7.1 Weber Q 1000
The Weber Q 1000 is designed with easy cleaning in mind. Its components are straightforward to remove and clean, so you spend less time scrubbing and more time enjoying your culinary creations.
7.2 Coleman Roadtrip 225 Propane Grill
The Coleman Roadtrip 225 Propane Grill comes with easy-to-clean features, including a removable grease tray, so you can maintain your grill with minimal hassle.
7.3 Biolite FirePit
The Biolite FirePit is a portable fire pit and grill that incorporates a thoughtful design for easy cleaning. It's designed to make your outdoor cooking experience as enjoyable as possible, from grilling to cleanup.
8. Fuel Efficiency
When you're out in nature, you want to make the most of your fuel supply. Opt for a portable barbecue that is fuel-efficient, allowing you to enjoy extended cooking sessions without constantly worrying about running out of fuel. Efficiency equals more grilling time!
Portable BBQ Brands Offering Fuel-Efficient Portable BBQs
8.1 Weber Q 1200
The Weber Q 1200 is not only versatile but also fuel-efficient. It makes the most of your fuel supply, so you can enjoy longer grilling sessions without interruptions.
8.2 Coleman Roadtrip 225 Propane Grill
The Coleman Roadtrip 225 Propane Grill is known for its fuel efficiency. It's designed to give you extended grilling time, making it perfect for camping trips and picnics.
8.3 LotusGrill
The LotusGrill is a unique grill that uses a built-in fan system to achieve fuel efficiency. It's a standout choice for those who want a grill that conserves charcoal and delivers a great grilling experience.
9. Additional Accessories
Some portable barbecues come with nifty additional accessories that enhance your grilling experience. From side tables for food preparation to built-in thermometers for precise temperature monitoring, these extras can elevate your barbecue game to the next level.
Portable BBQ Brands Offering BBQs with Additional Accessories
9.1 George Foreman Plate Grill
The George Foreman Plate Grill often comes with useful extras like a drip tray for healthier grilling and removable plates for easy cleaning. These accessories enhance your grilling convenience.
9.2 Weber Traveler Portable Grill
The Weber Traveler Portable Grill is known for its convenient design, which includes foldable side tables that offer ample space for food preparation. This grill makes it easy to manage your outdoor cooking.
9.3 Cuisinart Venture Grill
The Cuisinart Venture Grill may include thoughtful accessories like a built-in thermometer to help you monitor the cooking temperature accurately, ensuring that your meals turn out perfectly every time.
10. Value for Money
Last but not least, you want to get the best bang for your buck. Compare prices, read reviews, and choose a portable barbecue that offers excellent value for money. Remember, investing in a high-quality grill now will pay off with delicious memories and delectable meals for years to come.
As you're exploring these must-have features and the associated brands and models, keep in mind that your choice should align with your grilling preferences and outdoor activities. From compact design to precise temperature control and additional accessories, each feature contributes to your overall grilling experience. So, take your time, do your research, and get ready to savour the smoky aromas of outdoor cooking.
With this comprehensive guide, you're well-equipped to select the perfect portable barbecue that meets all your grilling needs. Now, it's time to gather your friends, fire up that grill, and create unforgettable outdoor cooking experiences. Happy grilling and good luck in finding your ideal portable BBQ with features that matter. Compactness, durability, and versatility – the key to exceptional outdoor grilling.